September 9, 2020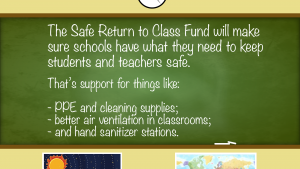 This week, children across Manitoba are returning to school. The past few months have been especially hard on students who have been physically separated from their friends and classmates, and on parents who have had to juggle work and childcare.
I know that many parents and students are worried about the return to school. Parents should be able to return to work without worrying about the health of their children nor their learning environment. We know how critical school is for kids' development and future success, and we know how important it is to get re-opening this fall right.
That's why the federal government's Safe Return to Class Fund is providing over $85 million to Manitoba. This will provide the complementary funding Manitoba needs, as they work alongside local school boards like the Louis Riel School Division and the Division scolaire franco-manitobaine to ensure the safety of students and staff members throughout the school year.
This additional funding can be used to support adapted learning spaces, improved air ventilation, increased hand sanitation and hygiene, and purchases of personal protective equipment and cleaning supplies.
The Safe Return to Class Fund is in addition to the more than $19 billion previously announced for the Safe Restart Agreement to help provinces and territories safely restart their economies. This agreement included funding to increase testing and contact tracing of the virus, support vulnerable Canadians, ensure the availability of safe child care, and provide income support for people who do not have paid sick leave so all Canadians can stay healthy.
Access to safe, quality child care plays an equally important role in parents' return to work. Through our Early Learning and Childcare Agreement with Manitoba, the federal government is investing over $15 million for early learning and child care in our province this year. In addition, our Safe Restart Agreement will provide more funding to Manitoba to help with the challenges to child care faced by families due to COVID-19.
We will continue to work to keep Canadian children and their families safe.